December 30, 2021

The Most Magnificent Train Rides in America
These train journeys take you through some of the most stunning scenery in the States.
Updated on 12/22/2021 at 4:13 PM)

White Pass and Yukon train, Alaska | WHITE PASS RAILROAD
If you're trying to get from point A to point B as ruthlessly fast as possible, you're not taking a train. But for those who subscribe to the adage that the journey is worth more than the destination, trains are still king. It's hard not to be seduced by the old-timey dreaminess of railway travel, watching landscapes gradually unfold just outside your window as you wind through tiny towns and sip a cozy drink as the scenery passes by.
Like the good old-fashioned American road trip, slow and steady (and much less populated) train journeys may very well make a comeback in these ongoing pandemic times, for those who still want to venture outside of the house as safely as possible. Whether you're on a jaunt through the countryside or a mountainous cross-country odyssey, they're also the easiest way to see some of the most magnificent scenery in the States. Here are the best rides in the nation.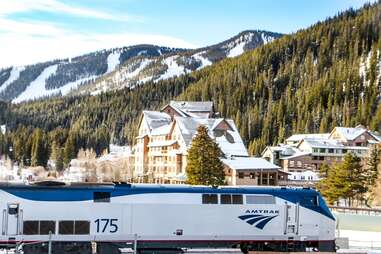 Denver to Winter Park Resort, Colorado
Distance: 67 Miles
Colorado is beautiful any time of year, but it's particularly breathtaking when decked out in all its winter finery. The Amtrak Winter Park Express brings you from Denver's 1914 Beaux-Arts station through majestic, snowy Colorado—along the state's famed Flatirons mountains, through the Rockies, and across the Continental Divide via the six-mile-long Moffat Tunnel—to the Winter Park Resort, one of the country's top ski areas. It's a stunning way for skiers or leisurely travelers to reach the slopes from Denver, but the vistas alone are worth the trip. The double-decker train cars provide maximum comfort, and an upper-level Sightseeing Lounge makes the perfect vantage point to take in the magnificent panoramas.